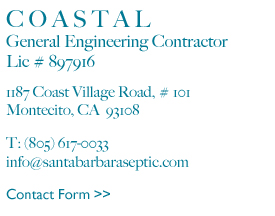 Beachfront Septic Installations


Serving Santa Barbara, Montecito, and Surrounding Communities
We design onsite and domestic wastewater treatment solutions for residential and commercial clients with unique on site wastewater treatment and disposal requirements. We provide design and installation of difficult on site wastewater and storm water treatment systems for properties with specialized requirements.
Soil Percolation Testing / Geology Testing
Septic System Planning and Permits
Exploratory Soils Testing / Soil Profile Analysis
Water Table Testing / Groundwater Monitoring
Residential Onsite Wastewater Treatment System Design

We are a progressive and productive company that offers high quality wastewater solutions at competitive prices. We provide services to homeowners, architects, developers, and other clients throughout California in site evaluation, onsite wastewater treatment system design, and environmental review of wastewater disposal systems.

In recent years innovative new wastewater treatment technologies have been introduced to the market which have allowed onsite wastewater treatment to turn a corner. Septic systems can now be designed to allow larger homes to be built on small or beachfront properties. We recognize the demand for safe, consistent, and cost cost effective treatment solutions and provide just that to our clients. Onsite Wastewater Treatment Solutions.
With the recently enhanced treatment requirements demanded by local health departments state of the art advanced wastewater treatment systems continue prove themselves to be the most effective and efficient option. These new alternative systems allow many properties with demanding septic requirements to be developed when a conventional system comes up short.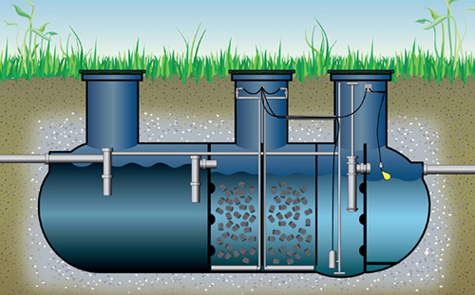 MicroSepTec ES Series Treatment System - Authorized Installers